1st Class Discount Club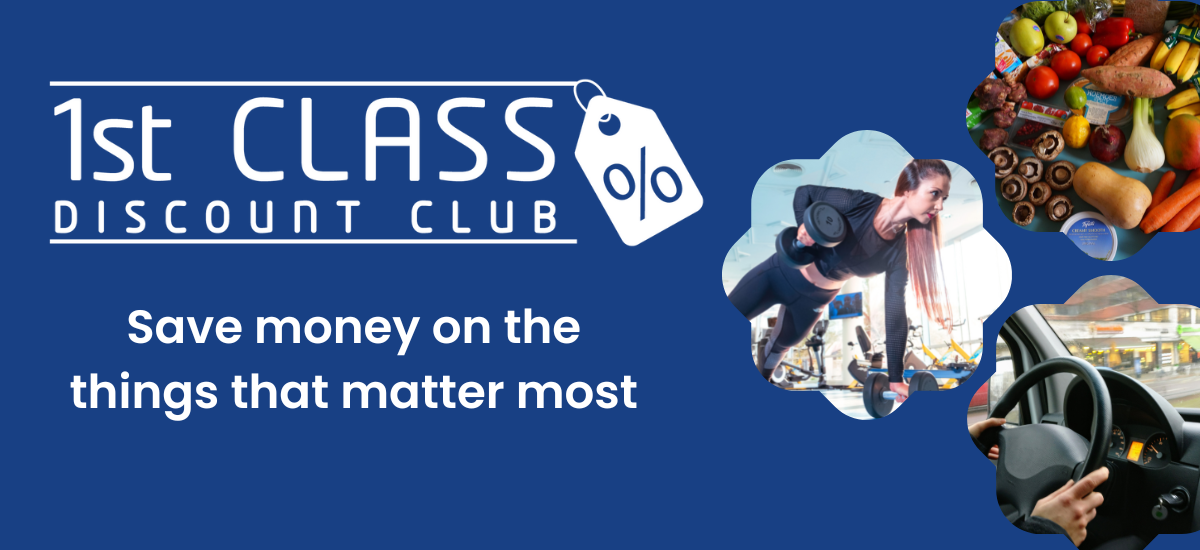 Members of the 1st Class Credit Union have access to a range of fantastic money-saving benefits through our brand new member benefits scheme, 1st Class Discount Club!
Take advantage of a wide range of deals including:
Food and drink: Receive discounts on groceries, fine wines, dining out, takeaways, and beer subscriptions.
Entertainment: Discounts on cinema tickets, books, West End shows, magazines, and streaming services.
Home and car essentials: Save on household appliances, mobile phones, car servicing, car hire, breakdown, and MOT services.
Fashion and tech: Access savings on a range of brands online and in-store including Charles Tyrwhitt, Dell, John Lewis, ASOS, and M&S.

More Info
Not sure where to start? Start with our 9 Ways to Save page
We've carefully selected some offers to help you save the cost of your 1st Class Credit Union membership. Explore this page by visiting 1st Class Discount Club.
Looking for a special offer? We've got a special offer tab!
Each month, we have a selection of special offers including the latest deals on theatre tickets, discounts on home appliances, savings on package holidays, everyday discounts card and much more!
Discover how much you could save with 1st Class Discount Club' Savings Calculator
Our Savings Calculator can show you how much save based on your monthly or annual spending on a range of everyday categories. The Savings Calculator will generate your personal savings total and provide links to the individual deals so you can start saving today.
If you have questions regarding the discount club you can contact us on 1stccu@parliament-hill.co.uk
How to Access
Start saving today
You can access the scheme by visiting 1st Class Discount Club via your member log in area all you need to do is sign in with your current membership details and begin saving.
If you are yet to join the credit union, click here.