27 September 2023
New Home of 1st Class Credit Union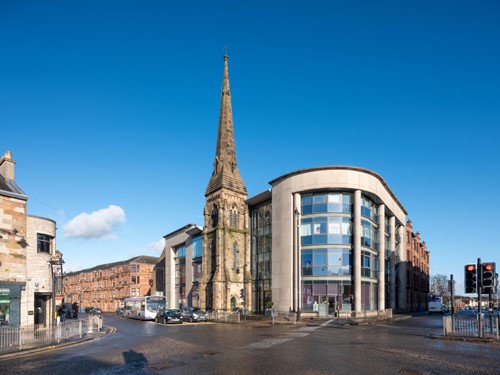 We are extremely proud to announce that our new home in the Aspire Business Centre on Rutherglen Main Street, Glasgow is now officially open. Following 18 months of growth the time had come to move on from our previous home at 105 Bell Street in Glasgow's city centre. Our new office offers much more than our previous residence, it comes with double the square footage, room to grow, 3 meeting rooms, a lunch area, a breakout area, and free parking. All while still being able to offer our members the opportunity to visit us in person, thank you to those who have come by already.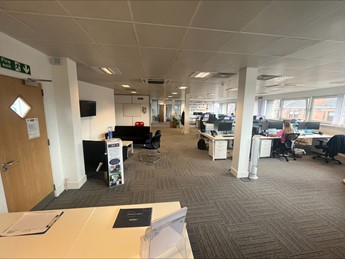 On Monday 18th of September, our board of directors hosted delegates from the credit union movement and long-term supporters of 1st Class at our official opening evening. Our attendees were welcomed by our staff team, networked with one another, and listened to a few words from our Chair and CEO. Attendees from ABCUL, CWU Trade Union, HMRC, PCS Trade Union, local credit unions, 1st Class ambassadors, and retired staff enjoyed a tour of our new home along with nibbles and refreshments. Thank you to everyone who attended.
One of the most exciting sections of our new home is our 1st Class Credit Union history wall. One room of our new board room hosts memorabilia from day 1 of 1st Class, back when it was named Glasgow District Postal Workers Credit Union Ltd. On our history wall, you can find minutes from a board meeting in 1992, pictures of our staff team throughout the years, items gifted by our American counterparts Georgia's Own Credit Union and Kenyan colleagues, and much more. We are excited to see what is added to our wall over the coming years.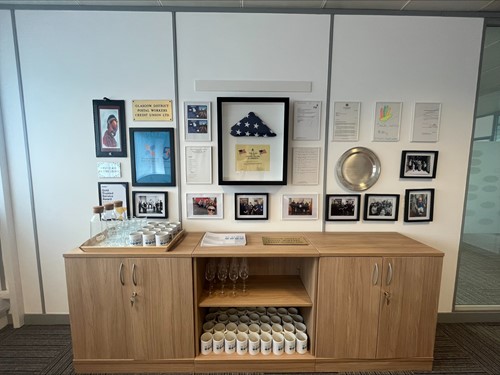 Our staff team has already given some great feedback regarding our new office, especially the feeling of being connected to the community of Rutherglen and Cambuslang. So much so we have seen an increase in the number of staff preferring to attend the office to work compared to hybrid working. Rutherglen Main Street is not short of footfall and boasts many options for staff to shop during lunch, vary their lunchtime choices, and give back to the local community. We look forward to working with the local community in the years to come.
Much like our time in Bell Street, members are still more than welcome to come on by for assistance with their accounts. We can offer our members a private meeting area.   Just mention 1st Class Credit Union at the main reception area and the concierge will point you in the right direction.
Back to News